Backing up files are a hassle but you cannot afford to lose your files? Here's an easy solution. Sync them to your cloud storage account!
Most of us own a account for Cloud Storage Account like iCloud, OneDrive and Google Drive. Heres a guide on how you can backup your files automatically
Backing up is one of the most troublesome and irritating thing to do. But it is a must to perform so that you don't lose important files when something happens to your computer.  But what if the external storage media (USB Hard disk/USB Thumb drive/CD/DVDs) that you store your backup on is lost or corrupt what happens then?
Most of us own a account for Cloud Storage Account like iCloud, OneDrive and Google Drive. Heres a guide on how you can backup your files automatically removing the fear of losing files and having corrupted storage media when you want to get your files back. This is also a setup and forget method which means you do not have to do backup periodically anymore!
This will also work for your company account if you are provided with any of the cloud storage accounts mentioned below.
Did I get your interest now? Yes? Good! Lets get started.
Here is what you may have if you are using the free versions of storage
iCloud - 5GB
OneDrive -5GB
Google Drive - 15GB
For more information about pricing and the size of each storage provider you can click on the links below
Microsoft OneDrive (O365 Plans includes Office Applications)
Note: If you are interested to use onedrive you can use the referal link below, both you can I will get 0.5GB of extra free storage space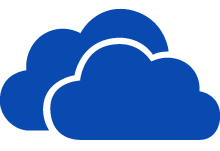 Let's start setting up then shall we?
Downloading the Clients
1) On your browser, navigate to your prefered storage provider.
iCloud for Windows - https://support.apple.com/en-us/HT204283
OneDrive - https://www.microsoft.com/en-us/microsoft-365/onedrive/download Note:
On windows 10 OneDrive should be pre-installed, if you see this icon in your file Explorer, it means OneDrive is installed
Google Drive - https://www.google.com/drive/download/
2) Download and installing the clients
iCloud
Microsoft OneDrive
Google Drive
3) Login to the clients
Setting up iCloud
a. Launch iCloud,Click Yes if a prompt appears
b. Sign in to your iCloud account, and enter your verification code
c. Select what those that you wish to sync. Ensure iCloud Drive is selected, click Apply when done.
Setting up Microsoft OneDrive
a. Open your File Explorer and click on the OneDrive Icon and wait for the login prompt
b. Enter your email address and click Sign In
c. Click Next for the next few prompts to completed the setup
Setting up Google Drive and configuring Backup and Sync
a. Launch Google Drive
b. Click Get Started
c. Sign in to your google account
d. Click Got it
e. Select the folders you wish to backup and click Next
Note : if there are folders not listed click on Choose Folder, browse to the folder and click Select Folder.
f. Click Start
g. Click on the Cloud icon to monitor the synchronization process. This may take awhile depending on your internet connection and upload size
Configuration for iCloud and OneDrive
Setup for both iCloud and OneDrive are the same
a. Launch your File explorer
b. Open either iCloud or OneDrive
c. Create New Folders and name them accordingly to what you wish to backup. The screenshot below shows the default folders in your user profile. You can add or remove additional folders if you want.
Note : you can refer to C:\User\*YourUsername*
d. Right Click on Desktop and Select Properties
e. Select Location, Click on Move
f. Select either iCloud or OneDrive
g. Choose the corresponding folder and click Select Folder
h. Click Apply
iCloud
OneDrive
i. Click Yes
j. Let the copy complete
k. Click OK
Repeat steps D to k for the other folders.
l. You can click on the oneDrive/iCloud icon to monitor the synchoronization process
Icon Status Explanation
OneDrive, for more status you can refer to the article here
iCloud, for more status you can refer to the article here
Google Drive
Freeing up space on Folders/Files you don't need but you don't want to delete them - iCloud and OneDrive Only
1) Select the file/folder, Right Clickand click on Free up space
iCloud
This will remove the copy on your computer but the file will still be saved in cloud. Note : Clicking on this WILL NOT DELETE the file.
Download a Folder/File you previously freed up - iCloud and OneDrive Only
Right Click on the Folder and Click on Always Keep on this device
Note : This will download all contents in the folder
iCloud
That's all for this guide! Now you got one last thing to worry!
What other cloud storage provider are you using?